->  For English, please scroll down to read the full review in English
Hyatt Regency Bali Sanur
Hét hotel, de Grand Old Lady van Sanur. Zij opende voor het eerst haar deuren in 1974 en verwelkomde vele gasten, van ons verwende reizigers tot de presidenten van Indonesië.
Wie Sanur goed kent, weet dat dit stuk enorme grote prachtige tropische tuin, ontworpen door de recent overleden tuinarchitect Made Wijaja, en het strand van dit hotel ongeëvenaard mooi, rustgevend en uniek is.
Inmiddels is het hotel, dat direct toen het de renovatie in 2013 aankondigde, land claims kreeg van omwonenden, na vele processen met vrijspraak en een grondige verbouwing weer open. Het heeft dezelfde sfeer, maar de restaurants, tuin, zwembad en beach front zijn mooier, moderner en frisser.
Het restaurant Omang-Omang is groot en omgeven door een lotusvijver vol kwakende witte eendjes, de kaart is verfijnd en zeer smaakvol. Het ontbijt is uitgebreid en bevat veel delicatessen uit Bali, van soursop-sap tot allerlei soorten vers brood, warme lokale specialiteiten en tropisch fruit. Service is uitstekend en personeel als vanouds supervriendelijk. In de avond is de Ikan Bakar een goede keuze en neem ook gerust een dessert.
De Pizzeria heeft een nieuw gebouw, open en aan zee. Hier drink je een Calamansi Sour cocktail en bestelt een bruschetta, verse pasta of pizza. Ook een kopje koffie met uitzicht op de gekleurde bootjes van Sanur is een must. Op zondag is de brunch zeer populair, en hiervoor komen de gasten (niet alleen uit het hotel dus) uit heel zuid-Bali om te genieten van een tafel vol tapas-stijl gerechtjes.
Regency Club
Er zijn geen speciale Regency Club kamers meer. Je boekt een klasse kamer, standaard, deluxe of Premium en daarbij kies je wel of geen Regency Club Access. Daarbij heb je dan een ontbijt in de Club en een borrel met uitgebreide canapés rond 17.00 uur.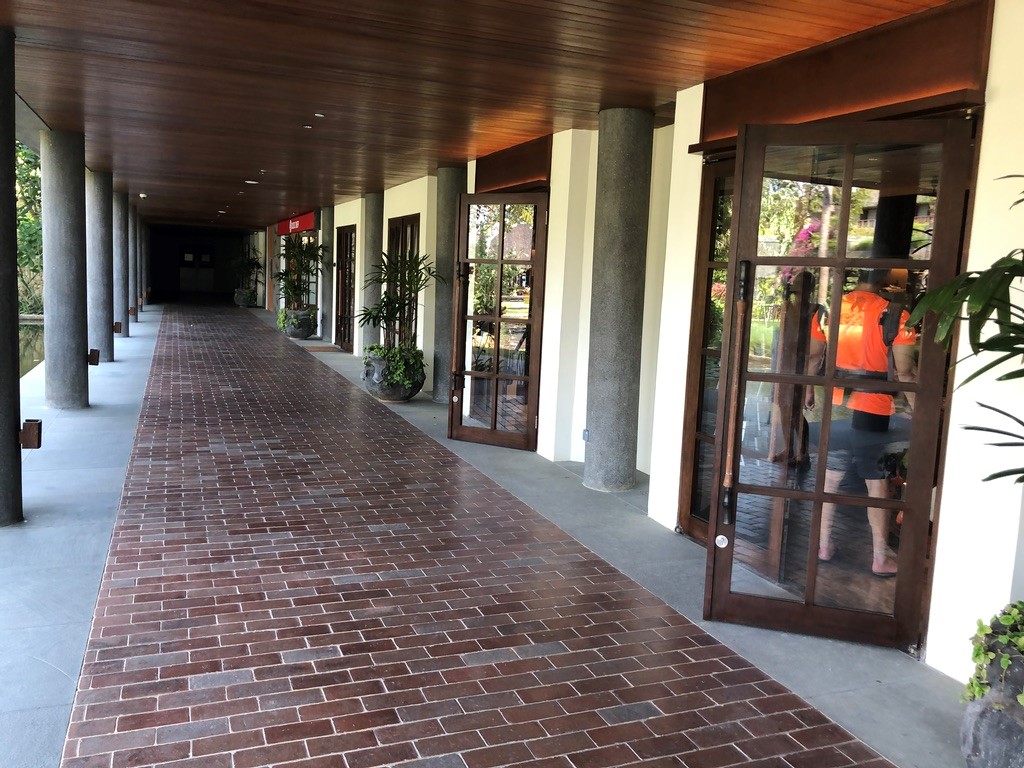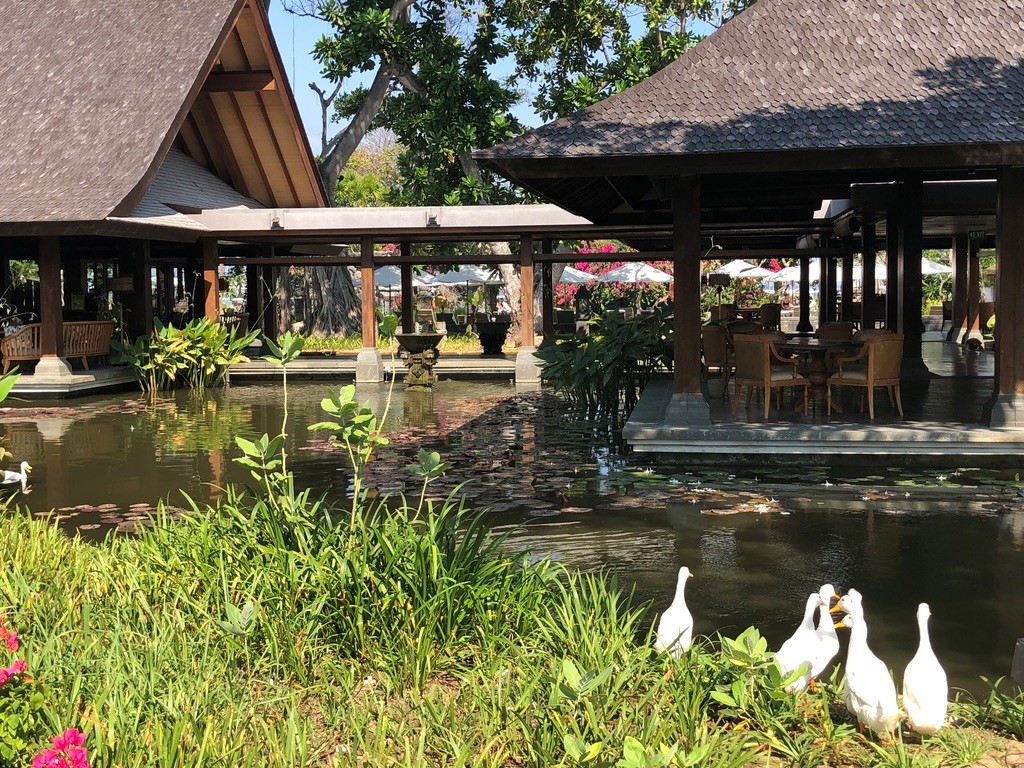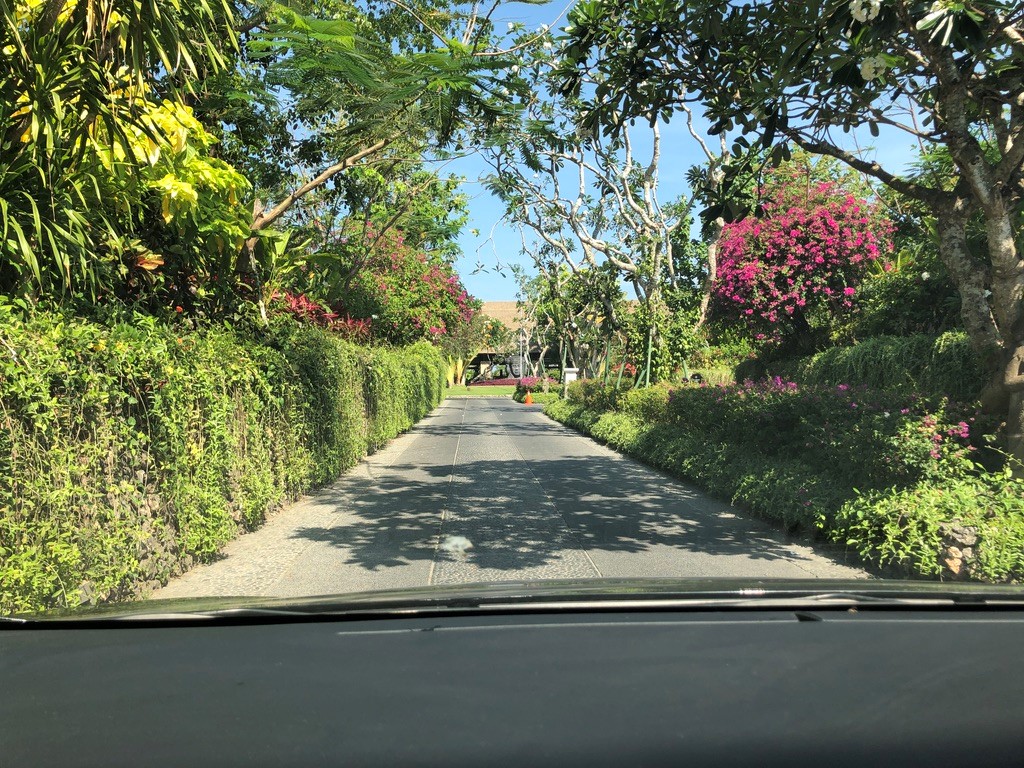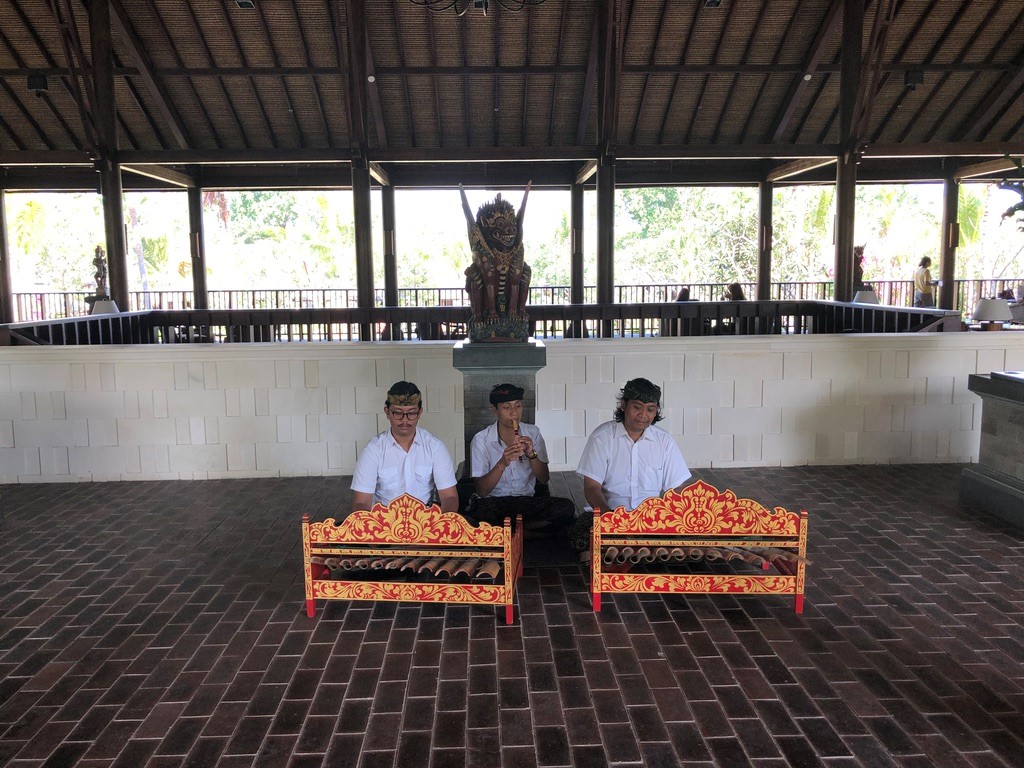 Het nieuwe lap-pool is heerlijk om even in af te koelen op een warme, tropische dag en verwen jezelf met een fijne lunch of drankje aan het zwembad.
De Shanka Spa, genoemd naar de grote witte schelp van de healers en priesters in Hindoeïsme en Boeddhisme is een aanrader, een uur massage is eigenlijk wel een must. De ruimte heeft een mooie open tuin met zwembad om in te relaxen voor of na de behandeling. Er is ook een gym.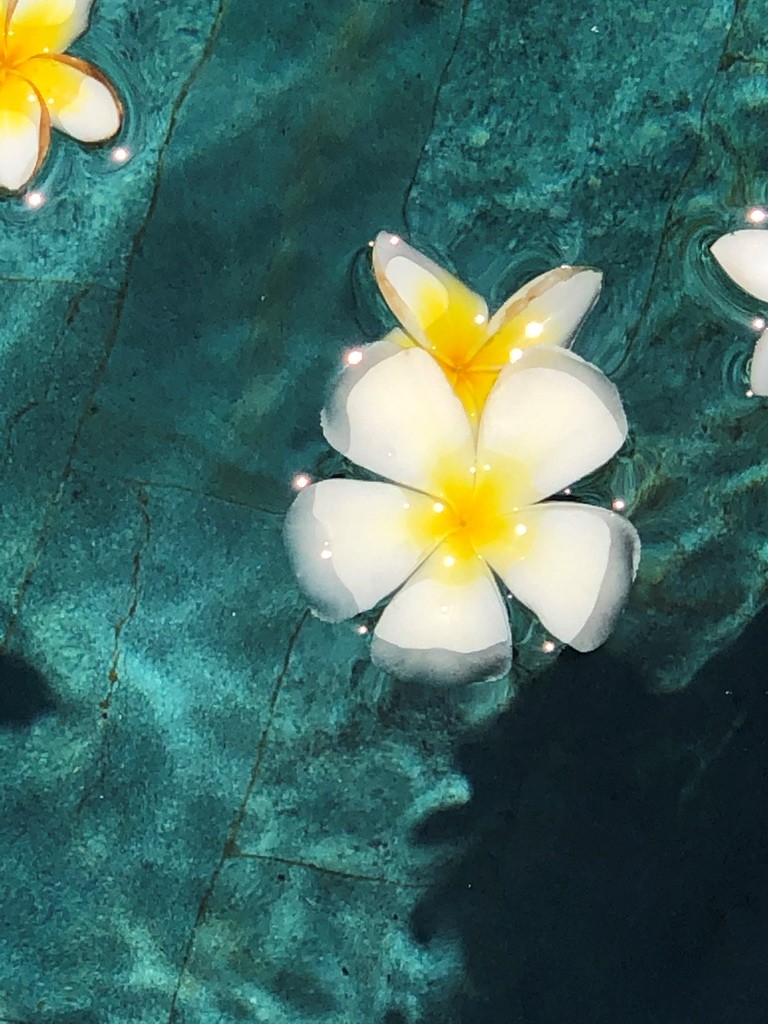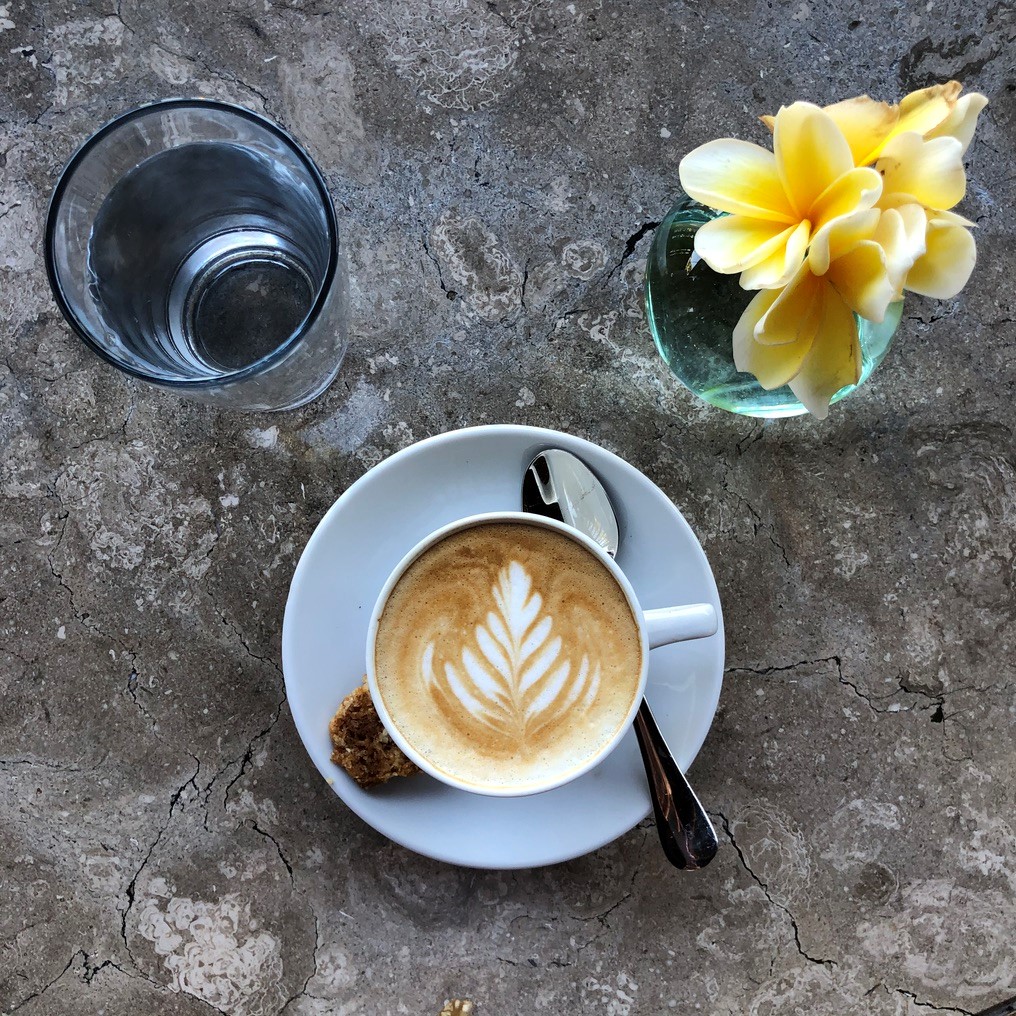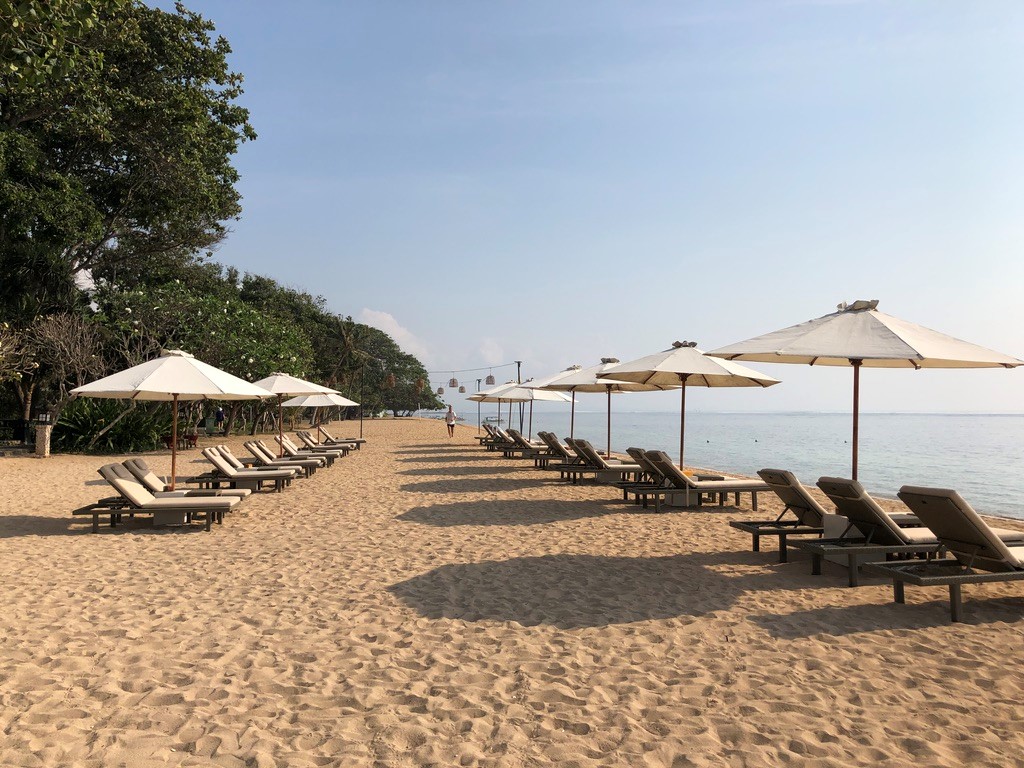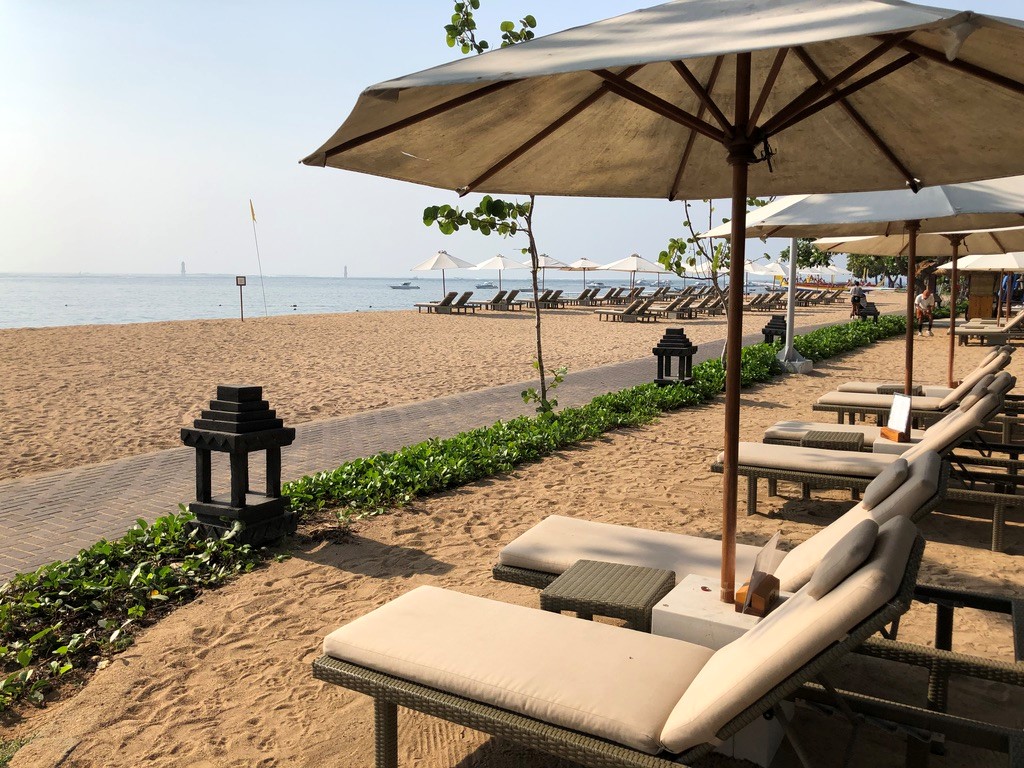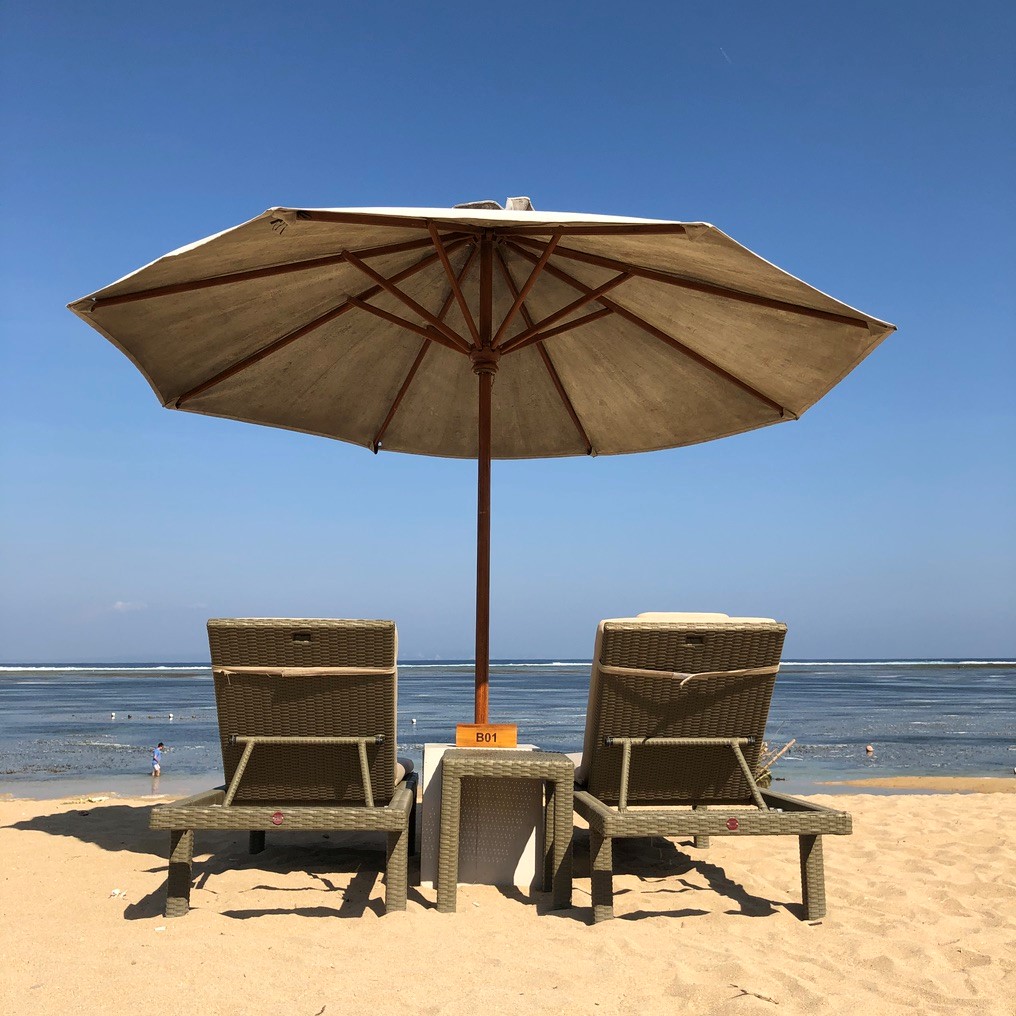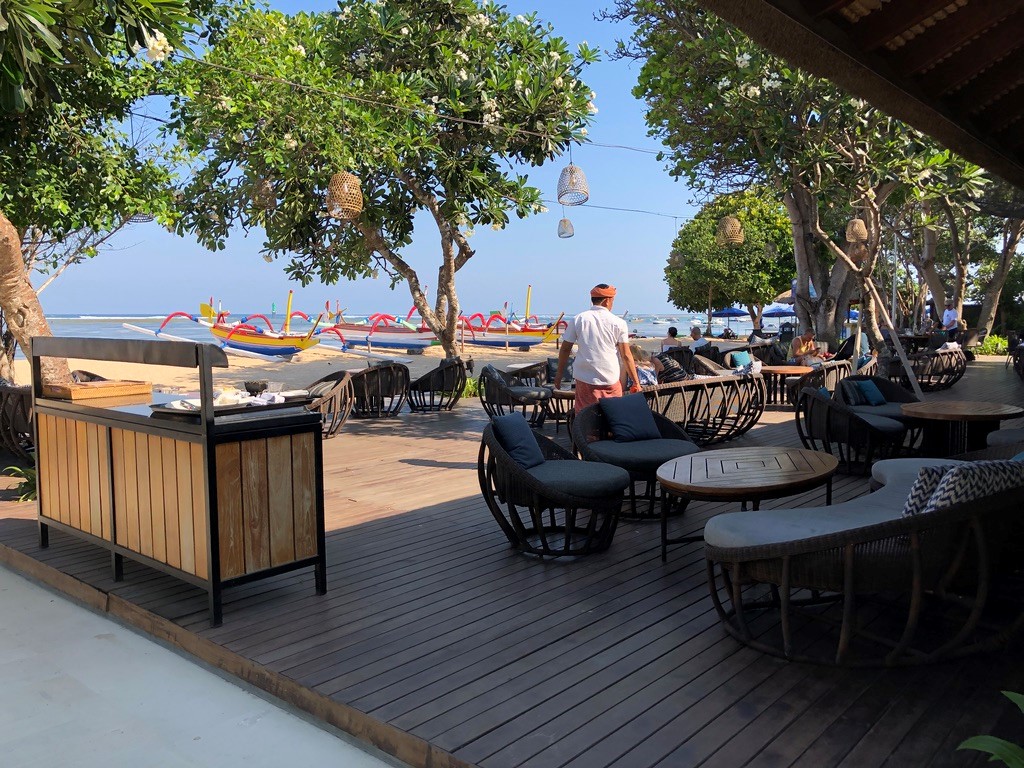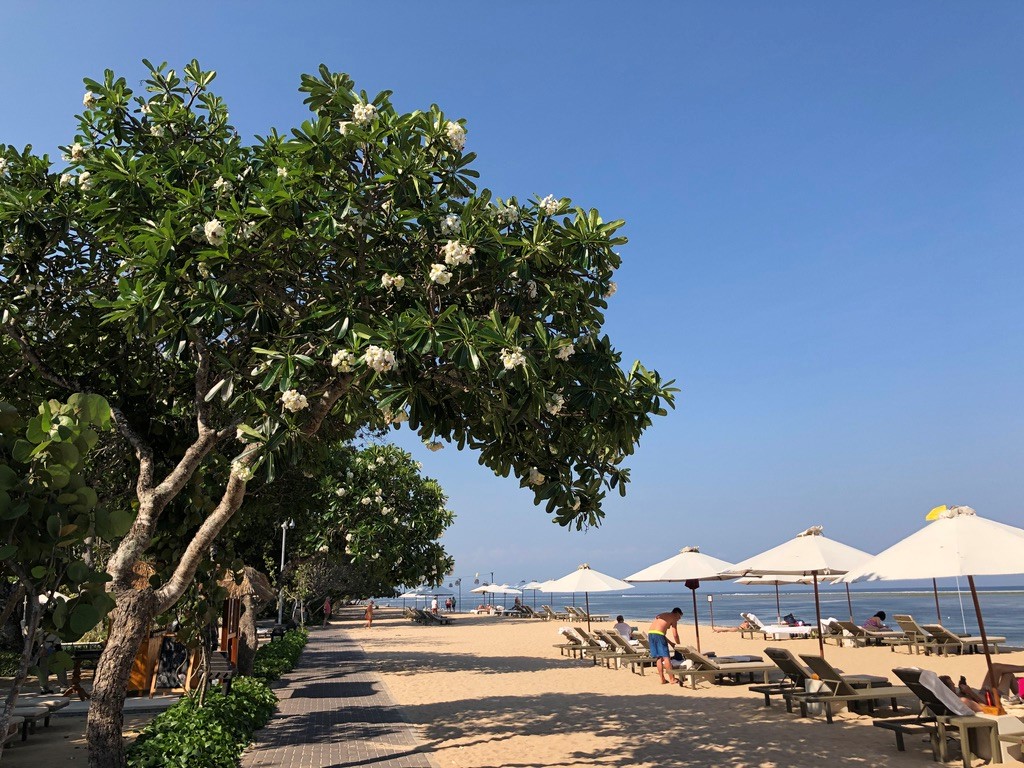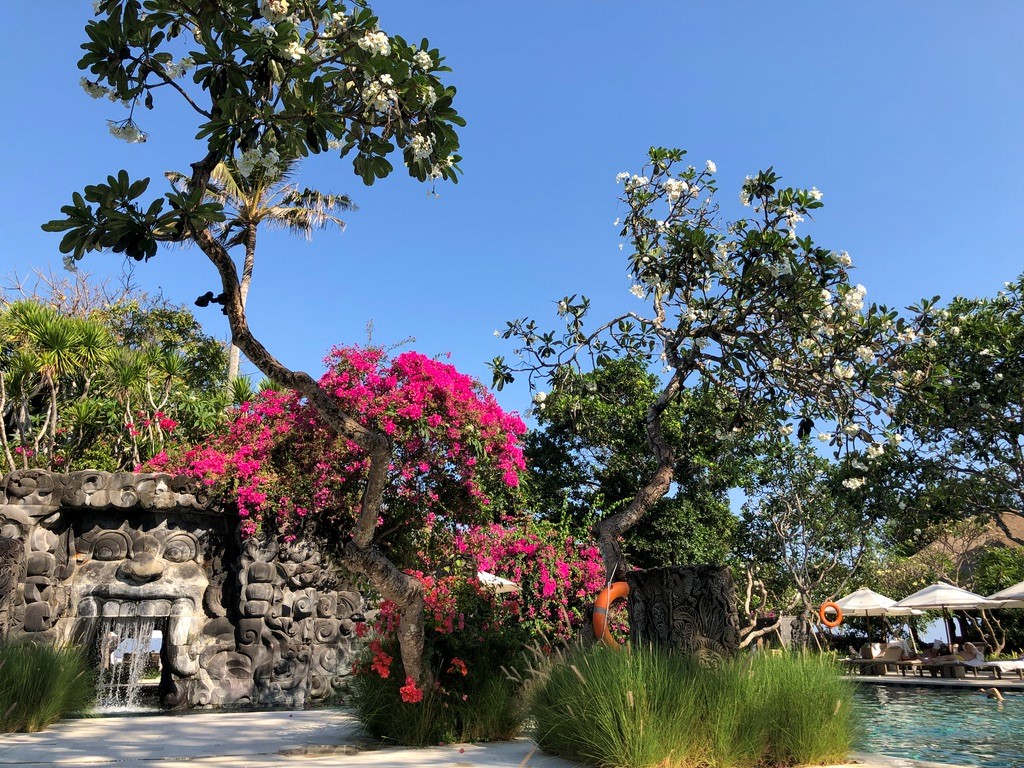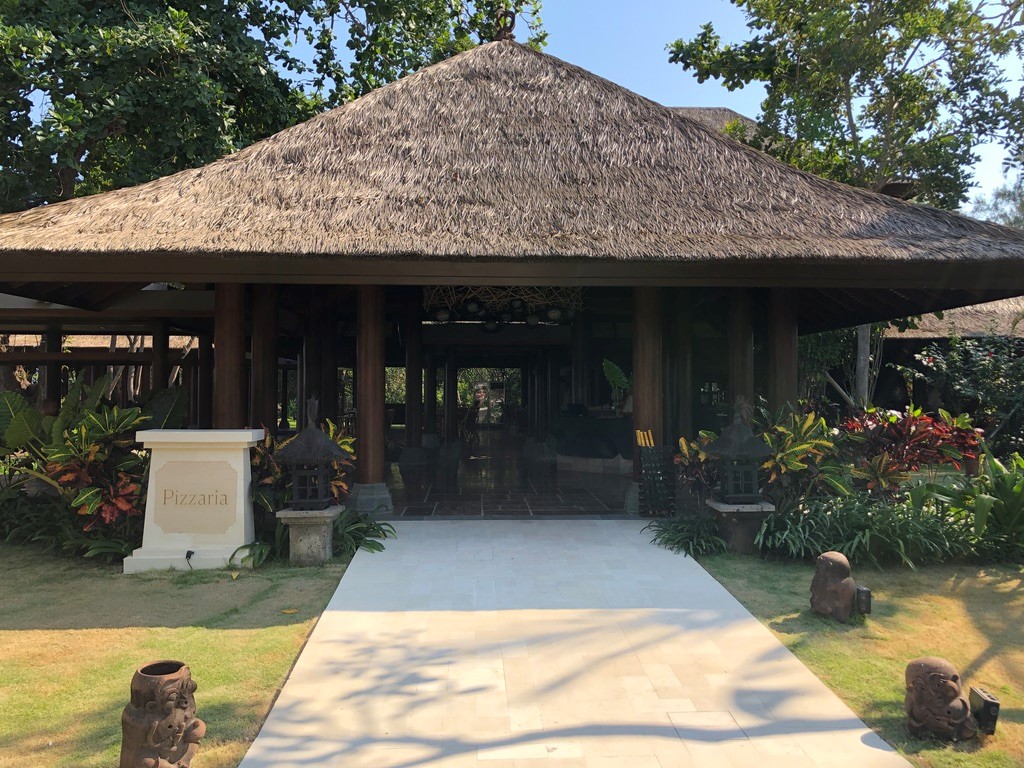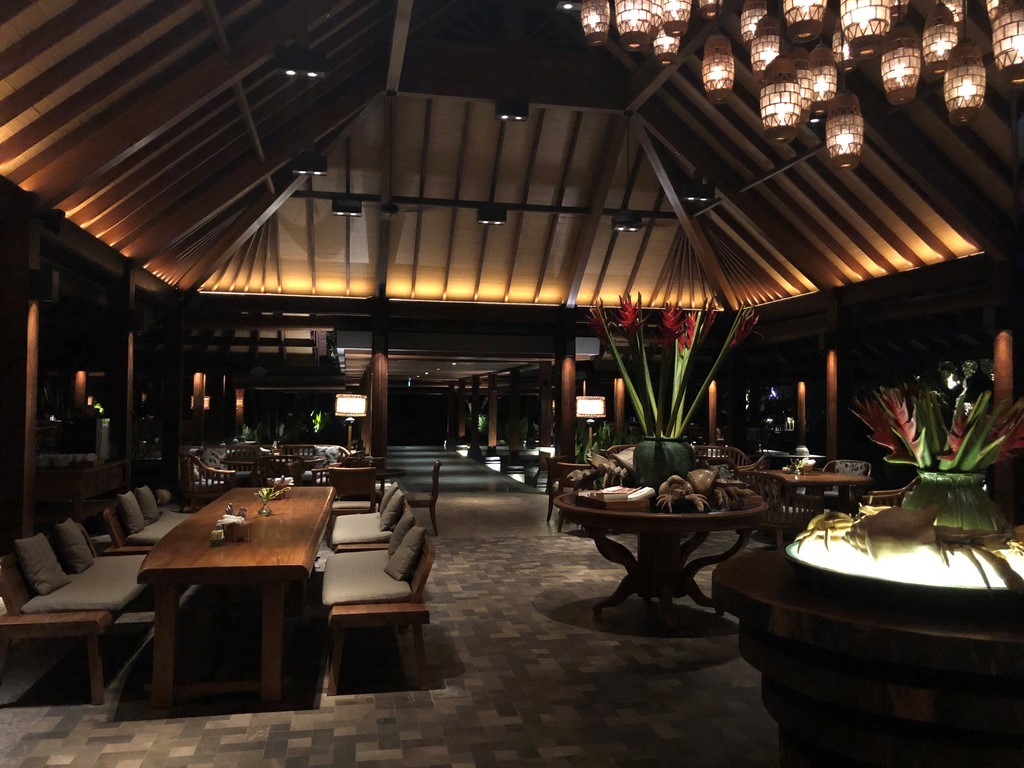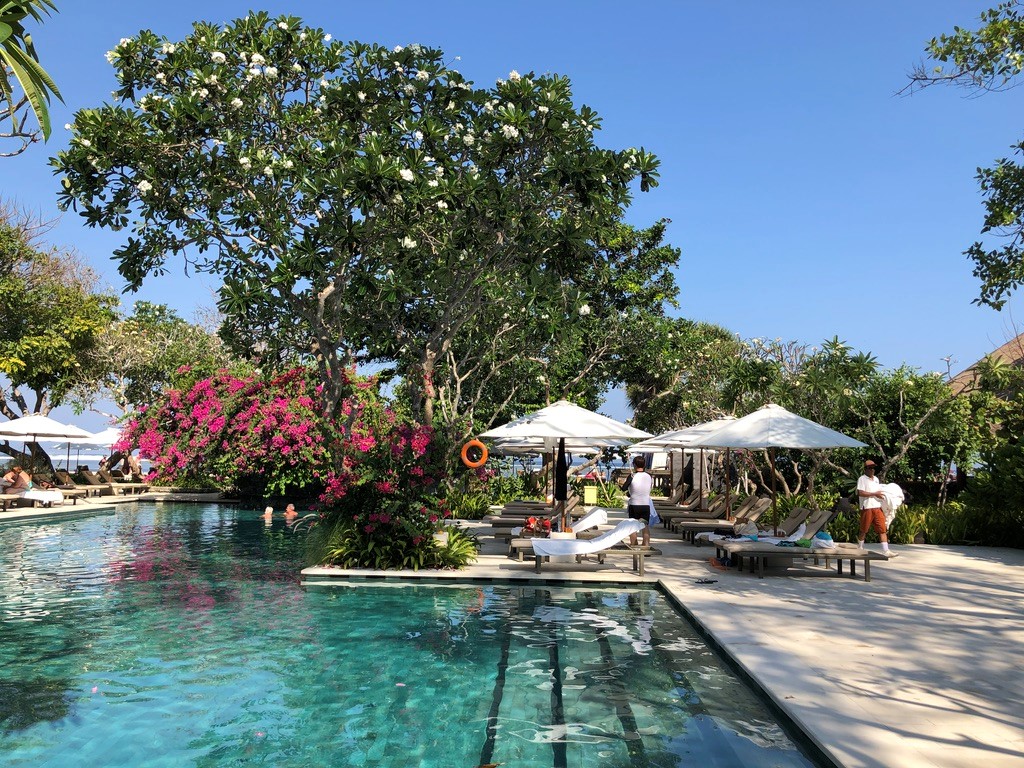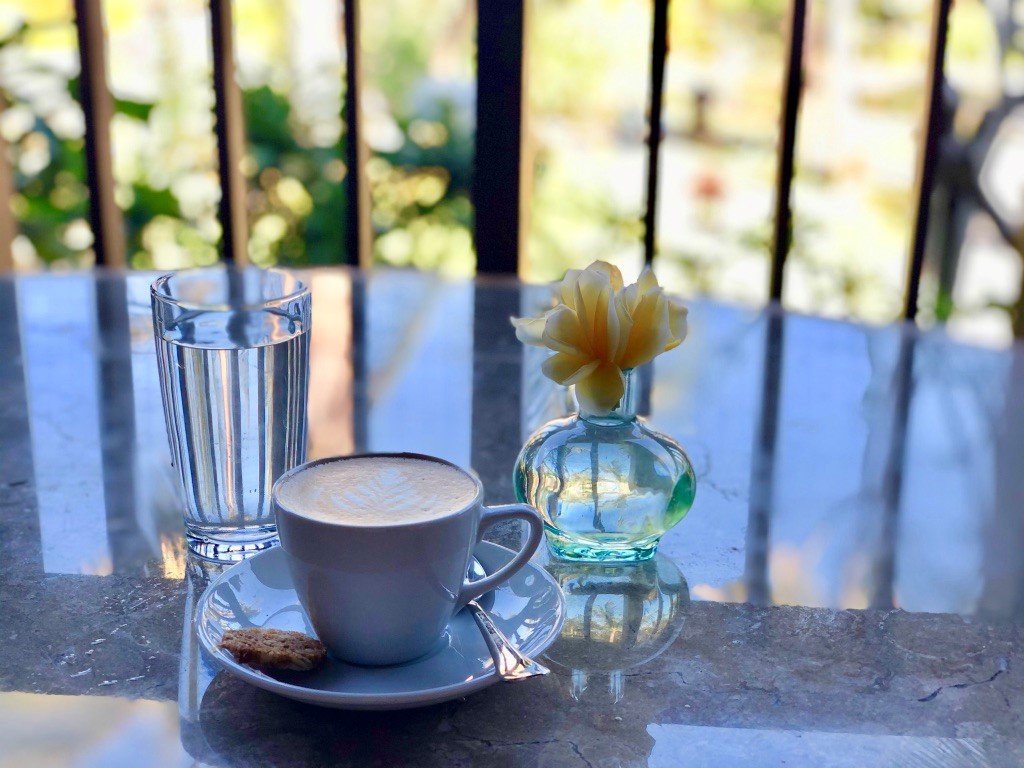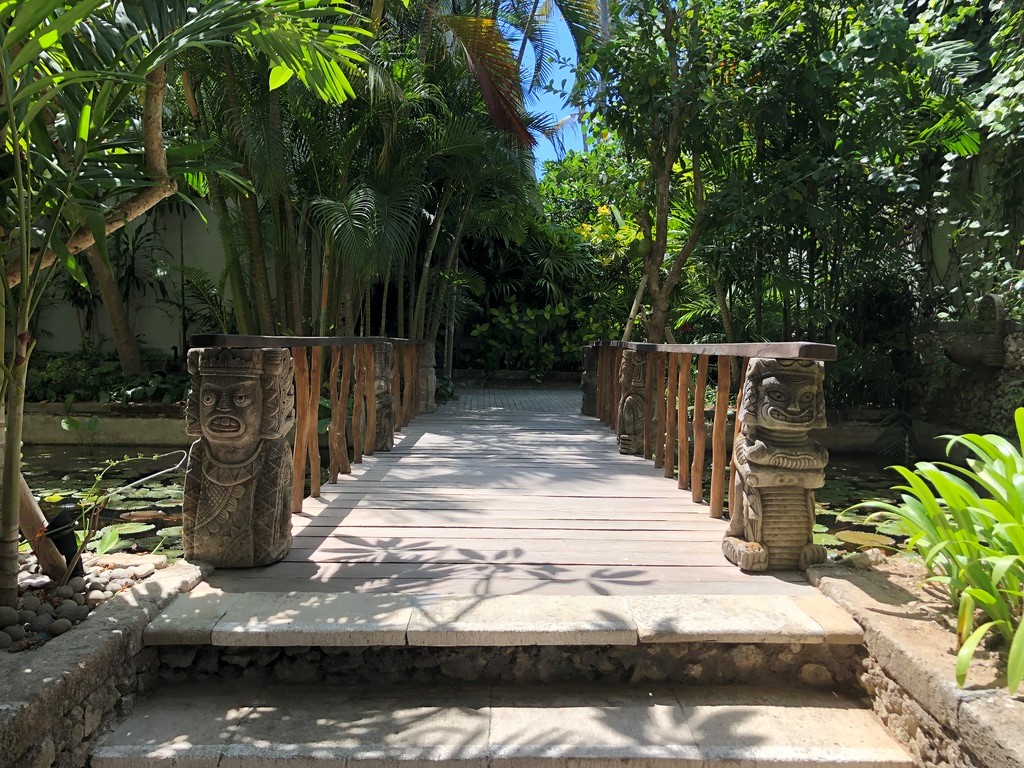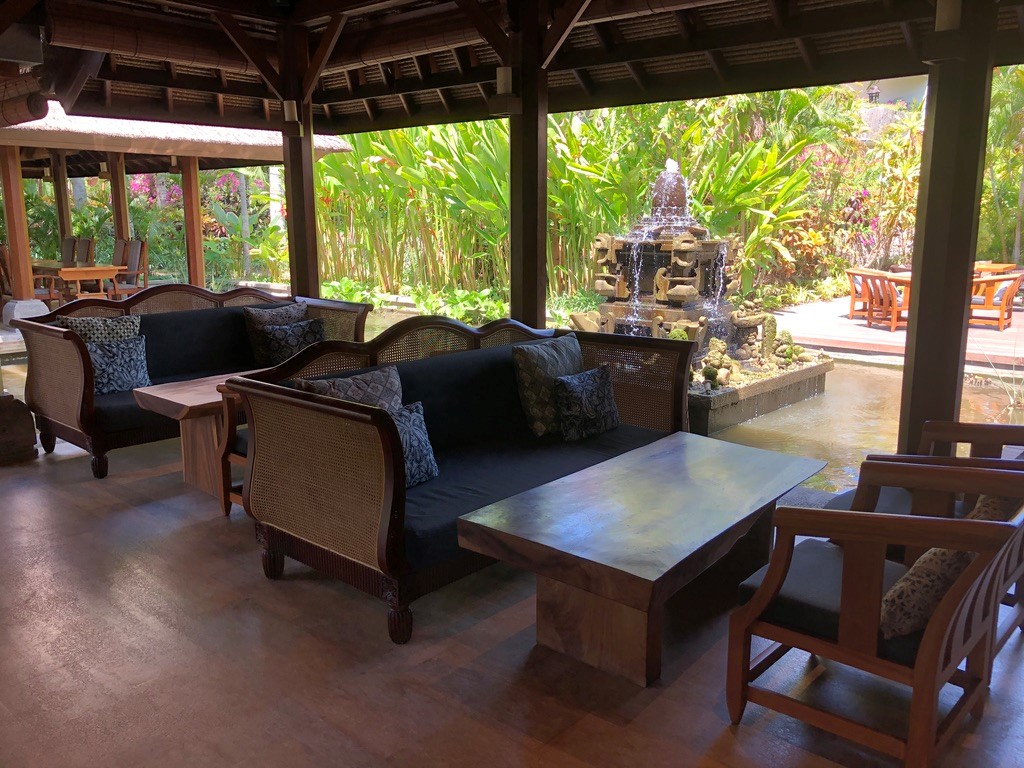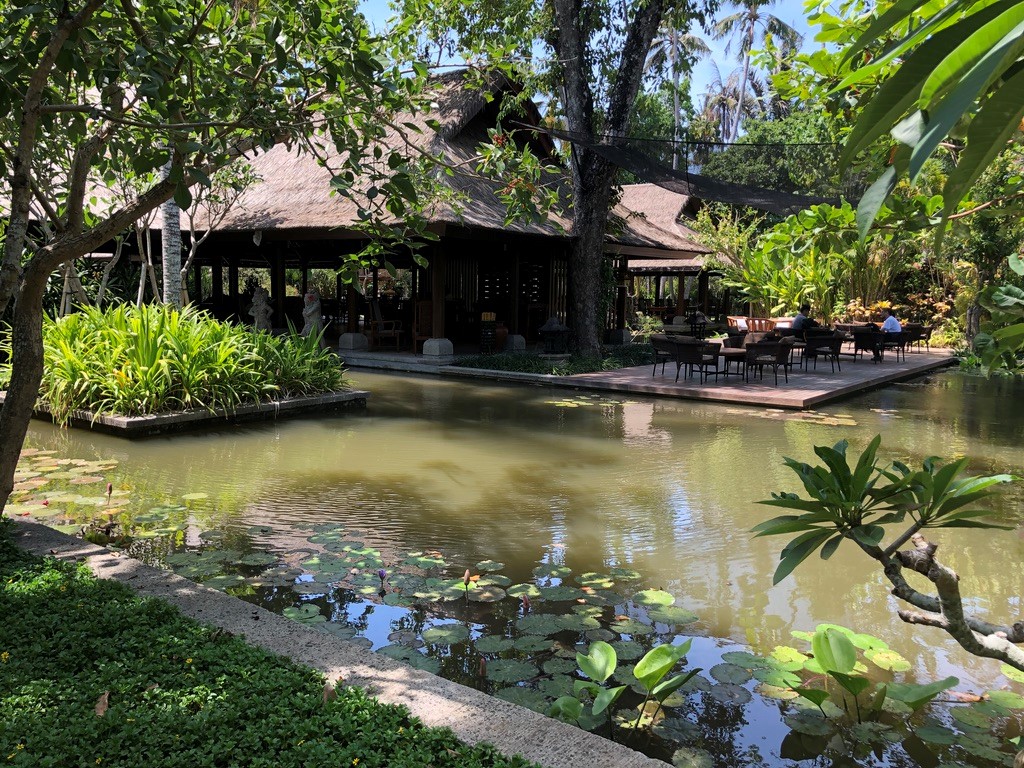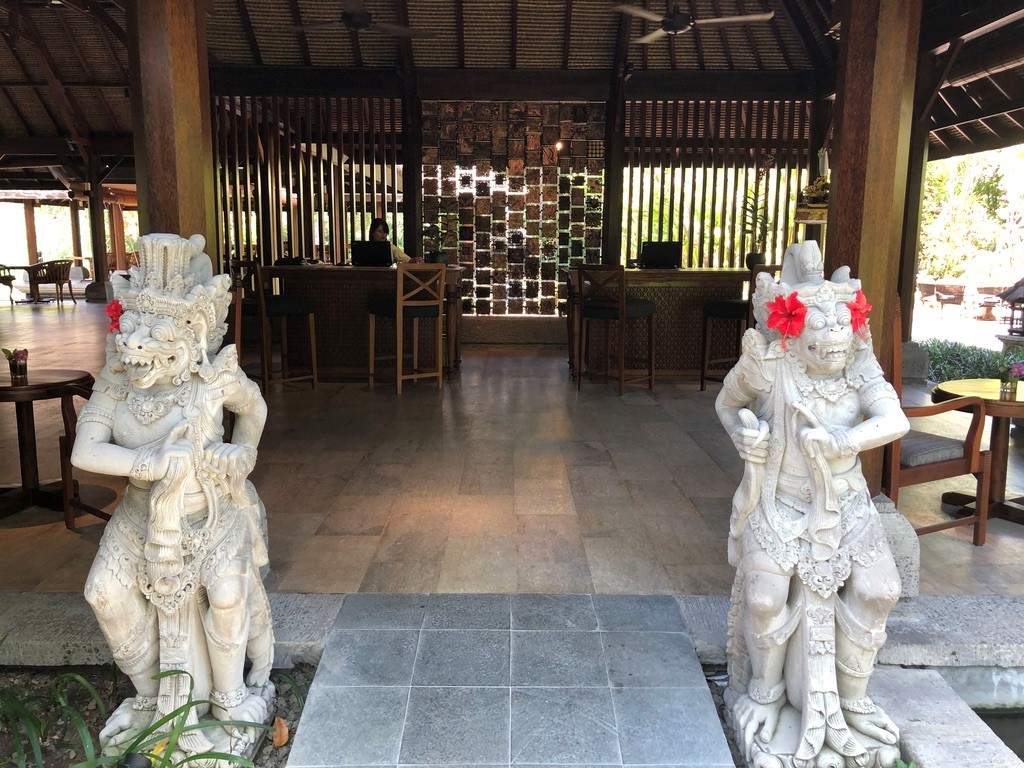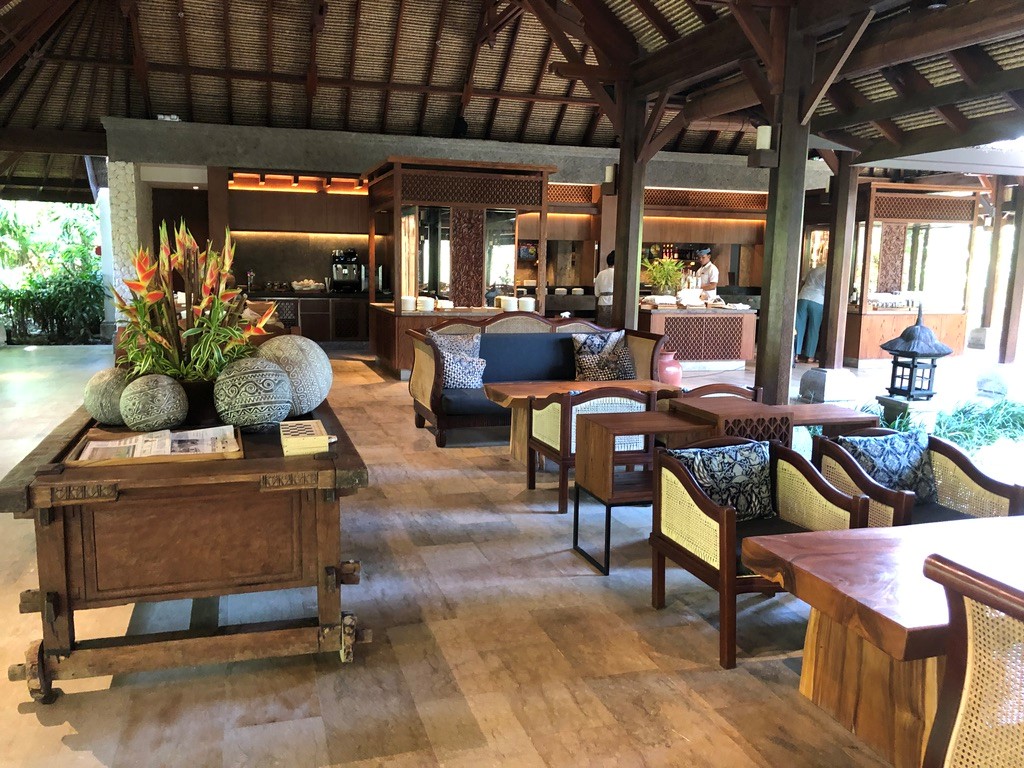 Our recent stay in Hyatt Regency Bali Sanur
1. General Impression
This hotel has been closed for renovation between 2012-2019. Built in 1974, an impressive renovation was announced in 2013. Land claims from locals delayed the project and finally the opening in 2019 gave us the pleasure to stay again in this famous Balinese hotel where we have stayed many times since 2001.
The Grand Old Lady still gives you her special feeling. Like an aunt you love to stay for your holidays! Driving up the lobby, there is the 'gong' welcoming you for your stay. No flower garland anymore though…
Happy faces of the bell boys bringing your luggage to the room. The check in was quick and easy, our Premium Sea view room ready.
Stepping into the lobby, on your left there is the check in counter, on the right there is the piano bar. Choose your couch in the front and see the ducks swimming around in the garden full of flowers.
The restaurant Omang Omang is now twice as big and situated in a beautiful water pavilion, surrounded by lotus flowers, full of happy white littlel ducks, frangipani and bougainville flowers. A quick word on the restaurant: breakfast is delicious and also the dinner is superb, the menu is a selection of international and local famous dishes. My Ikan Bakar was as nice and spicy as you can get it on the beach in Jimbaran. All the F&B is more modern (detox juices, gluten free bread) and more delicate.
The gardens are still beautifully landscaped. The 'blue pool' with the sunken bar has gone, but there is a new lap pool overlooking the beach. Much Better!
Overall there are fresh new showers made of local volcanic stones, new wash rooms and all looks fresh and spacious.
Kids pool is too sunny and hot. They should have planted bigger trees and more trees around that area, grass to play on and no white tiles. You can't stay there until 4 pm. Go into the garden and ask some loungers to be put there or stay around the beach front for the breeze in the shadow area near Pizzeria.
Service is excellent. Whether you contact the front office, concierge, waiters in the restaurants or pool front, you can not get it any better than this. All friendly faces and always kind solution or answer to your question. There again the spirit of the old Bali Hyatt, so warm and hospitable, it feels like a family. You are greeted by staff that will recognize you from before, but believe me, all the new staff members are as kind and nice as we were used to before.
For a relaxing stay, this hotel is certainly to be recommended.
My advice: book the premium room, third quarter in the back.
2. Purpose visit
We visited the hotel for a week, purely to relax and do some sightseeing in Bali from here.
For your leisure or business visit, the hotel is a perfect place to unwind and meet friends or business partners.
3. Room experience
The building consists of three square buildings with hotel rooms.
The room is spacious, and I would always recommend the room situated at the ground floor in the last quarter. You will want a Premium room when you need more space. If the 'original' room in the past was big enough for you, the second floor or third floor deluxe or standard rooms are fine too.
The first quarter is very noisy due to staff, guests and all kinds of traffic going in and out and passing this quarter.
The only big remark is the style of the decoration, which would not be my choice. It's a lot of wood, boarding and paneling, and the colors (wood and brown) are more Javanese style from the seventies. The 'kitchen' made of bamboo is a design of tempo doeloe, the coffee a percolator. In these days one expects a Nespresso machine.
The rooms are renovated. There is a separate toilet room, each room has a shower and bath separately. The cupboard is too small for the luggage of two persons traveling together. Beds and bed linen are fine.
Bathroom amenities are there and supplies come daily. Shampoo and shower gel are nice, but not special.
Room services, concierge, any one you call comes to bring you extra water, towels, we experienced a warm and friendly service from every staff member, amazing and so super nice.
– HOTEL SURROUNDINGS
Restaurants, beach walk, biking, supermarket, all is available very close to the hotel. Those who cannot stand the heat to go walking take a local demo or meter taxi (Blue Bird)
– HOTEL AMENITIES
SPA 
Now five times bigger than before, with a beautiful new pool where a huge black volcanic stone Ganesha relaxes with you by the pool, is a real treat. Everyone staying in this hotel should have at least once during their stay the one-hour massage! We really recommend this from our own experience, the therapists are amazing.
GYM
There is a nice big gym for your daily exercise in the spa area.
Personal experience
Review based on a personal experience. Whenever we had a question or complaint (noisy Chines upstairs and next-door neighbors) we complained in a very polite manner. We then got multiple options to solve the issue. Moving to another room was the best option. This complaint was correctly solved. We therefor thank the hotel. We do recommend the hotel to reconsider inviting groups of loud Chinese tourists who really do not know how to behave in a luxury hotel.
Tip: When traveling with children, ask the staff to set up some chairs in the garden. The pool area can be very hot with a lack of chairs in the shade.
Tip: Travel between March and October, outside the rainy season.
Tip: Have dinner in Omang Omang and in Pizzeria, they are outstanding
Tip: Bring stroopwafels or your local cookies for the staff, you will amazed by their friendly service and at least you will have a nice gift for them in return!