JOALI BEING & Summertime with kids.
What??? You visited a Retreat with a child?
Oh yes, and what a Retreat it is: JOALI BEING. A real Treat to Self.
Whereas JOALI BEING is normally open for kids 14 and above, I was so lucky to go in Summertime. There is the 'Joy of Being-program', especially designed for children. What a great opportunity to visit this amazing, luxury, healthy, sustainable and beautiful resort and combine it with a pure and joyful stay with my daughter. Advantage being: she loves Maldivian food, enjoys the beach, likes to travel and has a natural curiosity for islands and exploring them.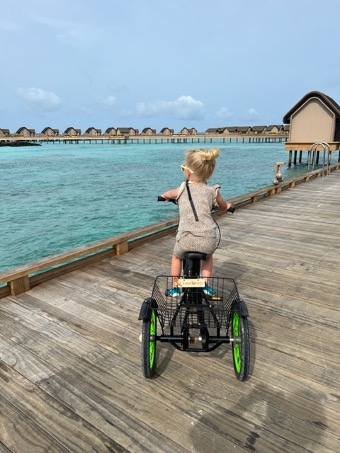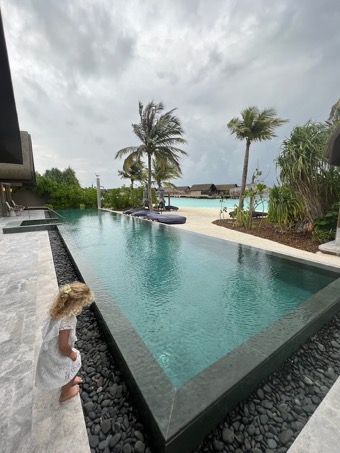 The arrival at Male Airport was smooth and fine. Best part: the VIP Airport Service. We were picked up at the seafront Male Airport and brought by car to the JOALI Lounge in the new, fresh Terminal. View on the sea planes coming and going: this really makes my happy. That Instant Travel Feeling. The beautiful Lounge with soft light, luxury textiles and soft, cozy furniture feels like a living room. And… it's full of inspiring books. Delicious drink and snacks were brought to us, and she asked if all was fine. Love, I could live here.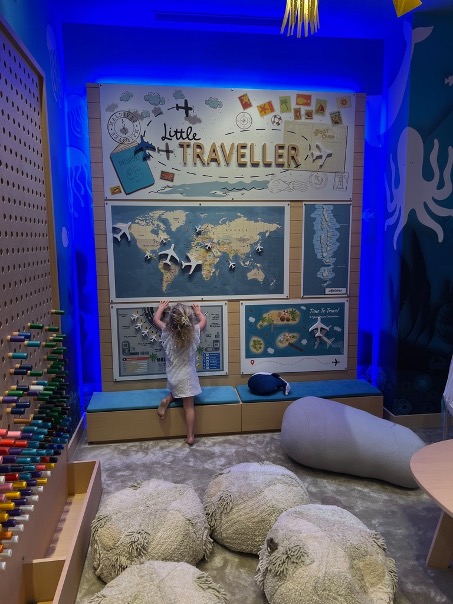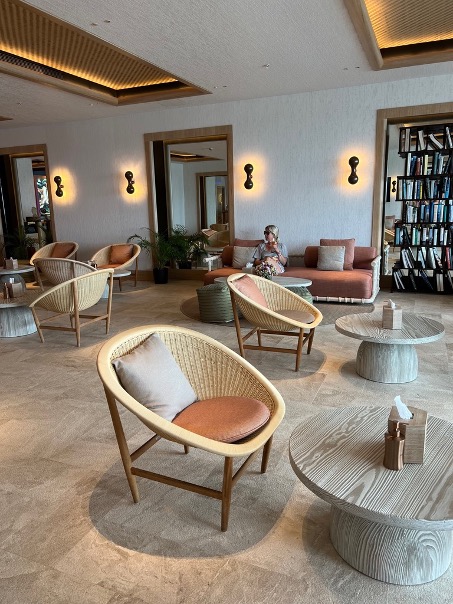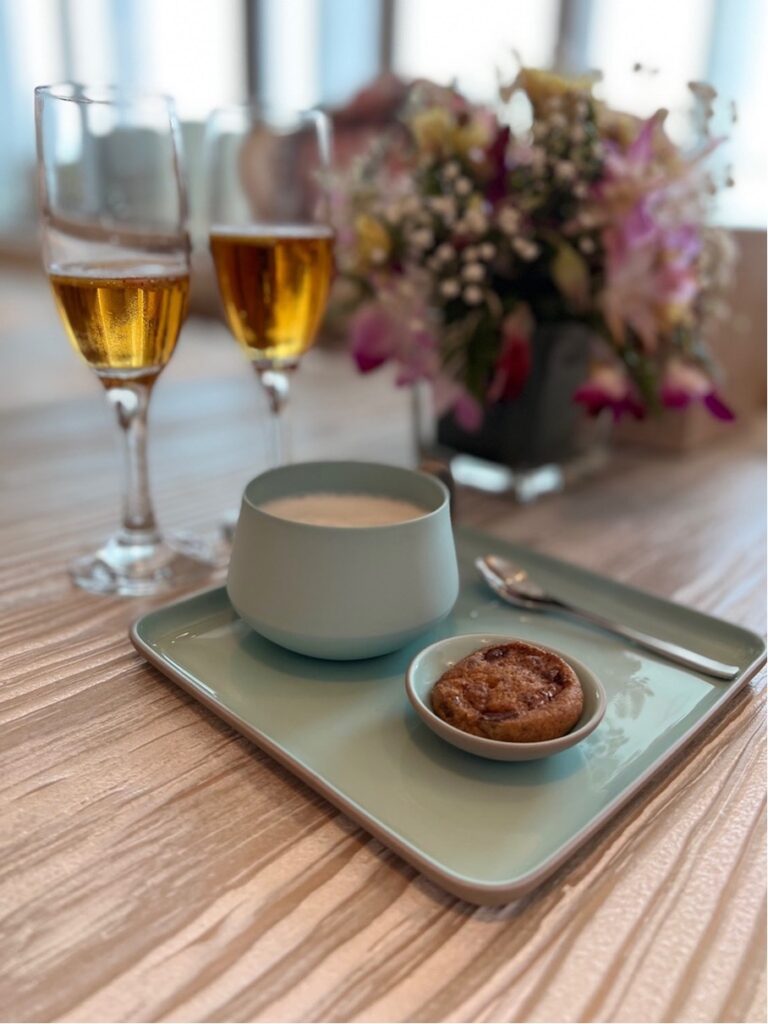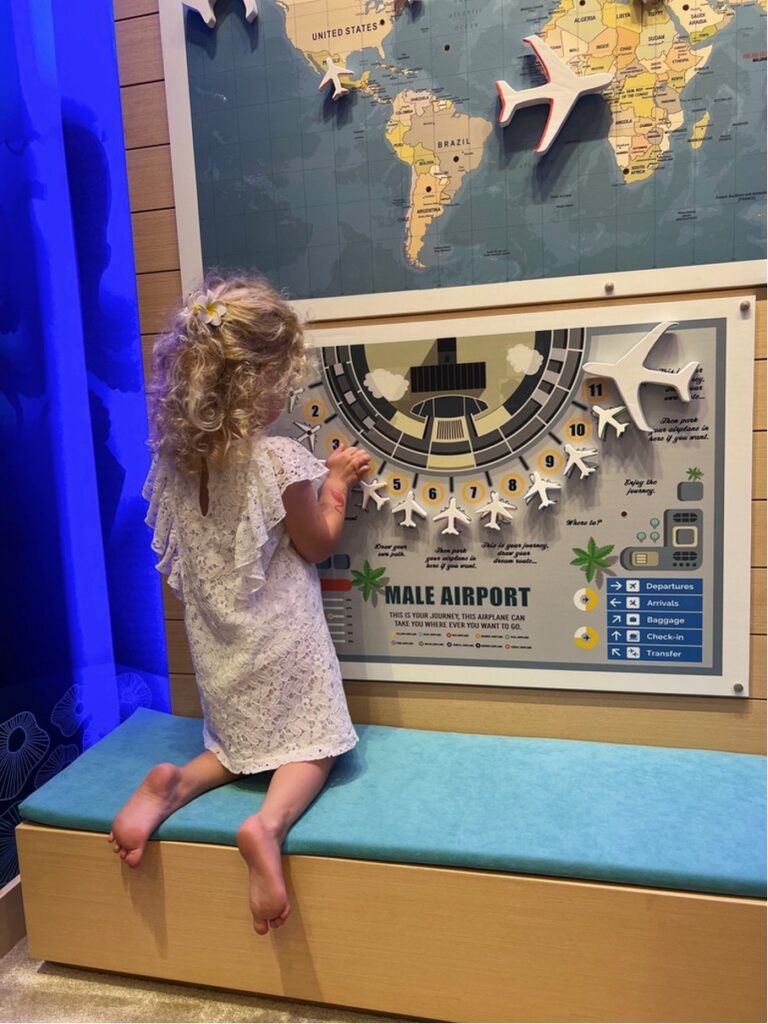 In this Lounge, there is the most beautiful Airport Lounge/Kids Club for children I have ever seen. It is inspired on the theme of sea planes and the under water world. Our daughter stepped in and played and played. There are wooden airplanes, animals, puzzles, colorings. She absolutely loved it. 
And while she was playing, we had a nice drink, could freshen ourselves up and have a light healthy snack.
Then we departed by sea plane for a 40 minute ride, which is extremely beautiful because you see the islands from above: the coral islands, reefs, atols and resorts. We arrived by sea plane at the jetty of JOALI BEING Resort. Upon arrival we got our own Jadugar. In the local Maldivian language this word means 'Experienced Magician'. In the western world we would call the role a Private butler, but that is even a too small role description… but that we only found out after a few days in JOALI BEING.
In the flow. There I was. I felt immédiately at home at JOALI BEING Resort. Luggage was carried for us, key cards arranged. All was quick and smooth and everyone smiling and taking real Care of us. The buggy was ready, the room was too. There we went to our home in JOALI BEING: a Grand Ocean Pool Villa. Our daughter stepped inside. Loved the space, walked and danced around and settled to sit down and have a drink with little cakes they had set up for us. So welcoming!
My sweetest Jadugar designed a superb schedule for me and hubby with treatments. She planned it perfectly throughout the day. The treatments were intense, real eye-openers. And yes, I did take time after the healings to write all my insights down in my diary. Left it there and went for snorkeling. As you all know, the best treatments have a longgggg lasting effect you can enjoy and use for days, even months or years.
Baby, let's climb up and see the sea from the Turtle! There is a huge bamboo turtle up in the trees. We went to the Sound Healing Garden, and my daughter loved walking around here. Kling-klang kling-klang, aaaahhh she so loves these sounds and the walk in the jungle nature. On the beautiful beaches we discovered shells of all shapes, sizes and colors. We walked in the sea, built castles of sand, walked along the island. And watched the fishes from the bridge. We even spotted a baby shark. I love it when children don't need toys, when they are in the Nature, they are themselves.
On arrival at our Water Villa, we got three Bikes. Lovely detail: our name card made of wood was placed on each of our bikes. My little girl (3) so loved to have her own bike, that she took it every morning to go for breakfast. 
After Treatments, our lovely Jadugar put some delicious little cakes in the room, that we shared with tea or fresh made cappuccino. Eating cakes together in your water villa. So enjoying! We swam in the pool, took a bath together, discovered the bath room and all the beautiful bath amenities. 
Instruments… as adults we would think, over rationalized as we are, who puts instruments in a hotel room? Our daughter understood. Intuitively she slowly touched the xylophone and started filling the room with the most beautiful sounds. Hipping on one foot, then another, turning her head to the sides.
Puzzles, hand made wooden puzzles. While I was totally puzzled, figuring out what to do with them, Lotus was making animals, pulling them to pieces and making animals of all shapes and sizes. Ha ha, mama, you really don't get it do you? The two of us laughing!
Every day, the staff asked what Lotus would like to eat, made a superb healthy, light dish that always ended with a delicious little cake or ice cream. She loved every plate, my Retreat-girl. On the last day, one of the sweet staff members of the restaurant gave Lotus a doll as a present. That was such a super nice surprise of her.
When you, as a mum or dad think: a Retreat? With a child? And on the other hand, you're always busy, you feel in every cell of your body you need time off, a reset, Soul time. Time to swim. Have a massage and head for the next level of Well Being, call me. I can help. I will plan for you a lovely travel trip where you don't have to worry anymore. Where you can arrive and enjoy. Where you can let go. With or without the child(ren). Send me an email, just reach out. Love, Debby
And for us? We're only waiting for the 2023 calendar to return Home to JOALI BEING…