Why I will go back to JOALI BEING
Why go back to JOALI BEING? There are SO many islands and destinations in the world. Why go back?
It was March 2020. I got invited for the Amstelluxe, thé professional Luxury Travel Fair in Amsterdam. Of course, I had to go. Luxury Travel and new, fresh resorts is exactly what my guests love. And me too. So there I met the sales team of: JOALI. During lock down, I signed up for a Virtual Tour of the Resort. Maybe, my thought was, this wouldn't work. A screen, images and virtual movies, can never-ever give you the feeling of a resort. But it díd intrigue me. This story wás different. The centre part was Wellbeing. A theme I am always inspired by and it certainly is a pillar in my own life.
Fast forward January 2022. Would I be interested to see JOALI BEING and come to the resort for a stay? I said yes. And my husband and daughter were allowed to join, as kids are most welcome during the Summer Holiday time.
And did we love our stay. We talk about it: Every-single-day.
So, here's where I try to give you a glimpse of what we experienced. The most important conclusion, I'll start off with: Why I want to return to JOALI BEING.
5 Reasons why I want to Return to JOALI BEING
1. The Energy
The island is beautiful, the beach is gorgeous. The arrival Jetty is the shape of a Manta Ray.
Yes, I know, the architect thinks it's a dress of a Sufi dancer, and that's OK, let him think that. I
return to my Manta Ray jetty and when I see the white sculpture it's my sign that I'm home. They call it Point Zero. And that is true, but as a guest you only realize this when you check out, feeling a different person. But I will explain that later.
The island is green, there are beautiful plants, trees and colorful flowers. There are small path ways to discover, you can go around the island. It's peaceful and quiet. All buildings are new and all colors natural. The brown and whites, green and peaceful pathways make the resort like a Haven.
From the first moment I set foot on the island, I kept saying: This is from another Galaxy.
2. The Retreat
When you think of a Retreat, some people may say: 'but then I can't do this/ or I can't eat that'.
I can't eat french fries. I can't drink alcohol. I will not be allowed to … fill in the dots.
Some of the reviews I read before I went to JOALI BEING indeed were 'negative'. One lady was complaining that she missed salt on her food. Or a coke at the pool.
I'd like to think of JOALI BEING as a resort where you CAN.
Can eat fresh, super-delicious, vegetarian food.
Can have treatments with their healing, soul-calming, solving benefits.
Can shake off what you no longer need to carry.
Can have a walk in the beautiful nature and go snorkeling in paradise.
Can take a group or individual class, spontaneously.
Can join and can-not-join.
Can have a hot bath with your view on the ocean while a thunder storm is rolling in.
Can take a nap. The ones you never allow yourself at home.
Can. This is a resort of opportunities.
Can open doors inside yourself to unlock new ideas, your next level. Your new chapter.
The meals are healthy, fresh, new style. For you -my fellows- who also love chia-pudding, fresh fruit, healthy-themed smoothies, non-diary, veggie dishes, this is Heaven. Thanks to the lovely team of chefs and waiters in the beautiful restaurants.
And yes, they have the best beef in the world, delicious fresh catch fish, a lovely glass of red wine (yes, guys, I had one), chocolate cakes (no sugar added and delicious), fresh ice cream. Oat cookies you will keep eating.
My advice? Take a leap of faith.
Jump, and the net will appear.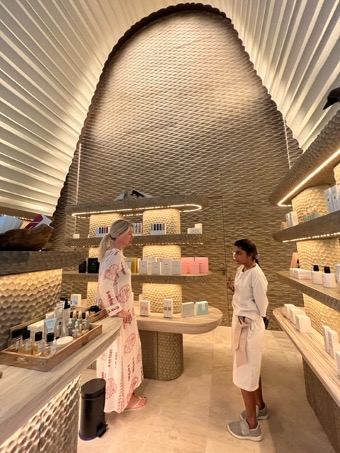 3. My Life
As we become older, it's easy to say we take more and better care of ourselves. When we're in our twenties, life seems long and endless. As we're getting older, we don't want to have problems. No problems with our health is number one. We lose people to sickness or old age. We start to think, just briefly and sometimes, how short life is. We focus more. At least, that's how I feel it. Less time wasted. Less food wasted. We preserve more, think more in themes of sustainability. Sustainability also when it comes to our own body and mind, and not to forget, the Soul.
Throughout the year, it's always a challenge finding the balance: a healthy work-private balance. Healthy food. Drink enough water. Healthy thinking. In case of problems, finding solutions or help. Slow down, to speed up, says one of my dear coaches.
True. In living a long, healthy and happy life, to reflect, slow down and take time to listen to your voice within is the centre and essential. Around it, there's the themes of healthy food, good sleep, nice relationships, a happy life.
As I was able to slow down and got so much advice, ideas, gifts, advice on food, on my lifestyle, on my business, it felt like a very healthy, calming pause. And it all started with the Four Pillar Massage.
I concluded that if we all stay in JOALI BEING one week a year, this is definitely life extending.
Being clear that you also take home your advice and work on it the best you can.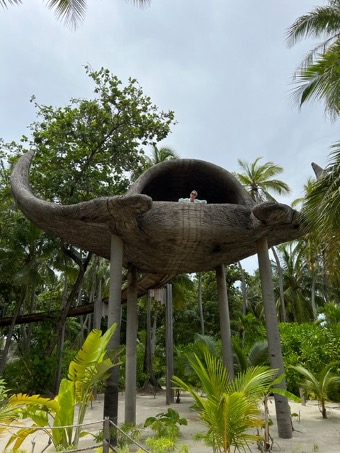 4. My Lessons
Upon arrival in JOALI BEING it already starts with the people you will meet, the talks you have. Even what may seem like small talk with the colleagues here, can ring a big bell in your brain, is my experience. You get directions, they tell about other guests motives and about themselves and their own life experiences. The staff here is like a mirror, making you smarter and wiser every minute of your stay. I can't tell the names but you know who you are, who touched my heart. (And my personal advice: write it all down!)
Before we arrived, the kind Sales Manager sent me forms, the Guest Journey Planner and the Lifestyle Questionnaire that I was kindly requested to fill out. Yes, quite a lot of work. About my condition, about my life, work, family, thought patterns, food habits. All friendly, nice questions. And the question: 'Was there anything I would like to change or that was bothering me?'. I took time to overthink this. This is a good one.
Let me take it to a personal level here, so you will understand what happened to me in JOALI BEING.
Yes, actually, there was something bothering me. As I got three eye surgeries since 2013 and had had two cornea transplants in the last nine years, I use eye drops with medicines daily (for the experts: one is prednisone to prevent rejection of the cornea and the other one is antibiotics to prevent the cornea from getting infections.) From these medicines I get stomach cramps quite often. And in the past, I was always the one eating fried rice for breakfast with sambal in Bali, so I know my stomach feels very different now from years ago. My GDP got me pantoprazole to calm my stomach.
And that just didn't feel right. What was the next medicine I was going to be taking? I imagined myself in a few years: with the famous box of pills we know elderly people carry around, with a different color for every day of the week full of different pills.
Fast forward to my meeting with the Wellbeing Counsellor in JOALI BEING. She had prepared my documents and kindly talked through her observations. She tested my condition with a special machine, using two copper strings, to measure bioresonance. And there it was. She started designing a drawing, explain what had happened to my system and my stomach in particular. She was mentioning more symptoms I recognized and even forgot to mention!
I was relieved. She put her finger on the exact spot. I had toxicity in my body. Due to these medicines.
These would lead to more problems if we wouldn't get rid of that, right now.
She gave me advice on the spot and she sent it by e-mail too, so I could read it thoroughly. At home, I started implementing this advice and I can say now, after 1 month I feel 80% better already. So, I keep going.
Food, eating and drinking is a cultural thing. Also something that we are taught in our family. My coach advised me in not only what to eat, but also when to eat, how to compartmentalize and advised on drinking too. I definitely got a reset here.
Thank you so much, dear coach, for this wonderful insight.
Every single treatment I had in JOALI BEING, gave me a transformative story like the above.
Anyone interested in a stay in JOALI BEING can send me a dm and I'm happy to share what happened to me after the Four Pillar Massage, the visit to AKTAR, the advice from the GM and the Director of Well Being and the lessons I took for my Soul, from the Watsu-Treatment. Because the last one, gave me a feeling of a rocket going into space. In my business and for my Soul, and I can say I am still sparkling every day because of it.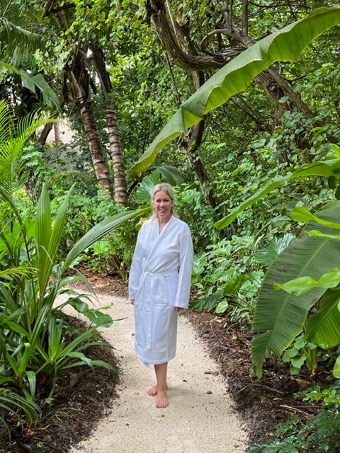 5. Still to desire
As we got invited, we knew our time in JOALI BEING was limited to four days. Four Blissful days. As I was doing the ocular with the wonderful representative of the island, she walked happily and showed me all the room types, the yoga Sala over water, the shops and the gardens. We were enjoying ourselves, I realized again that my work is pure pleasure and JOALI BEING is heaven on earth. The bonus was we also spotted a baby shark in the shallow water.
What I didn't do. And what I should have done: the Sound Healing Treatment, the Cranio Sacral-treatment, Chronic Illness Nutrition-advice, Yoga Nidra-class (how I love this), Yoga class at the Pavilion on the water, Sensory Deprivation Pool, Gender Specific Vitality Pool, Salt Inhalation Room ,Thai Massage, Ocean Sala (yoga and breathing excercises), Core, the Fitness Space and taylor made measurements and exercise plan, Design my own Tea, Design my own Perfume, Pyrography…
It was then, after that ocular, that I realized something very important. I walked into my water villa, stepped outside, into the pool overlooking the sea. Swam up to the edge and looked at the horizon.
I wanted to go back. And now I had to go and pack my suitcase.
And so.
The Delight of staying in JOALI BEING was certainly from another Galaxy.
And addictive it is.
I had one bite, and certainly tastes like more.
See you again, lovely team of JOALI BEING. Thank you for the amazing stay, the experiences, the smiles, the inspiration and WELLBEING feeling I take home with me (and Robert and Lotus) and I will feel blessed to have stayed with you forever in this Lifetime.