It was in 2004 that we visited the Maldives for the first time. Since then, we've been going quite a few times to stay in many different resorts for a holiday, and later as a tour operator for our tourism business in resort-inspections.
So, this was not our first trip, but it was certainly different than before.
The Maldives is a country of 1.200 islands, we call it the Turquoise Garland. As your airplane approaches Male Airport Island, you know you're going in the right direction. Beautiful, white and soft sandy beaches, tropical islands, fresh coconuts… and most importantly: the coral reefs, my favorite place to hang out.
In the last years, Maldives used to be a popular tourist destination for honeymooners, but the last years we've booked so many couples, families and beach- and snorkeling lovers. It's not necessarily for honeymoon couples only, any couple can enjoy the beauty of the pure nature. Also, we book trips the Maldives families a lot, as there are many resorts to choose from and you can enjoy the underwater world, beach and nature.
Maldives: A Safe Haven for Travelers
When the pandemic started, the Maldivian Government introduced the 'Safe Haven'-strategy. Any resort complying to several very strict rules, was allowed to open. In July 2020, the first 100 resorts opened to receive tourists and it has proven to be successful. Staff is 100% vaccinated and tested twice weekly and wears face masks always. When they leave for a break, they go quarantine for two weeks. Guests need to show negative PCR-test results upon arrival, get their temperature tested when they enter the restaurants and need to clean their hands with the famous gel. There's no obligation to be vaccinated. When there's a sign of fever, the doctor in the resort will approach guests in a proper way. It's a clear protocol, that is a leading example for the tourism industry. Of course, the geographical advantage is there, staying on an island.
It's still unbelievable the Dutch government marks Maldives 'code amber'. It shows the lack of knowledge in the Foreign Affairs department. My business partners in the Maldives, whom I know since 2004, all confirmed many times our stay would be safer than at home. If the number of infections rises in the Maldives, it's in the capital city of Male, which is located on an island. The Maldivians are not allowed to travel out (unless tested and quarantined), the tourists are not allowed to travel in. As a traveler, we arrive at Male Airport Island, we don't even come close to the capital which is on another island. Germany and Switzerland already have given Maldives a code 'yellow', they're all going! So yes, experiencing all of the above, we were confident travel to Maldives is safe and pure joy.
Being the first vaccinated Dutch lady traveling in the Maldives, the arrival was totally different. A host from our resort awaited us at the airport, with a huge warm welcome and smile, despite the mouth cover, and lead us to the lobby to wait for our speedboat that took us in a private transfer to the resort. Check in goes smoothly, quickly and mostly with no contact. In SAii Lagoon Resort we communicated with the front office through an App, where we could reserve a table or ask for extra towels. Innovative, efficiently and still personal.
Traveling to me is like a Coming Home-feeling
I felt the relaxing, the space and especially the pure nature as a medicine. Traveling to me, is like a coming home feeling. I really needed the warmth of the tropics and I loved the early morning walk and the beauty of the tropical green lush vegetation, snorkeling for hours watching colorful fishes and coral reefs, a kick boxing lesson. My battery was constantly charging. No more watching the phone and the news all the time like a manic. Pure nature, pure relaxing, enjoying the moment.
During this trip, we decided to stay in SAii Lagoon Resort and Hard Rock Hotel Maldives.
Patrick de Staercke and Thomas Matrat of SAii Lagoon Resort added some good advice too. 'Where in the Maldives is there a relaxing resort full of beaches, tropical flowers, next to a beautiful Marina at 15 minutes by speedboat from Airport Island? When you're smart, you go now while it's still quiet and all facilities are open.' Especially the last remark is so true, as we experienced this ourselves.
Sustainable resorts in de Maldives
When we checked in at Conrad Maldives back in 2004 we were asked to take all possible plastic waste from packaging back home in our suit case. The lady explained the resort had no solution to plastic waste. In 2017 we also visited the Maldives. I remember the airport was buzzing, crowds were looking to catch the right speedboat to the resort. Bulging trash cans with plastic bottles everywhere. Now, the airport is clean, your friendly host from the resort picks you up and brings you to your speedboat/water plane.
SAii Lagoon Resort and Hard Rock Hotel Maldives, an excellent choice for a super deluxe stay, great sustainability initiatives and they opened only very recently. We love new, crisp, fresh resorts.
The first thing we noticed was resorts now serve the guests locally grown veggies, fruits and herbs. Delicious, those fresh water melons, cucumbers and tomatoes. There's a zero-waste approach and resorts turned from plastic bottles to glass bottled mineral water. Amazingly new technology, as it was designed just for this resort. SAii Lagoon has a small secluded part of the island where all the sustainable projects are processed. We were very impressed by all the new sustainable initiatives.
Why travel Far in these times?
After three days of snorkeling above the reefs, seeing all these colorful fishes, I almost forgot all the negative news. I also stopped checking my phone all the time to read the latest news. It was good to get some distance. The pure nature is a perfect medicine for us human beings. The beauty of this planet, the palm trees, tropical lush vegetation, the turquoise sea and white beaches are so beautiful. Its good to see the world from another perspective too. Staff in the resorts come from Jakarta, Bali, The Philippines, even Bhutan and it was so nice to meet these international world-travelers and hear their stories.
SAii Lagoon Resort
We visited these two new resorts, SAii Lagoon Resort and Hard Rock Hotel Maldives. We stayed in SAii Lagoon Resort, only 15 minutes by speedboat from the airport island. A tropical resort built in a Mediterranean style design, with gardens full of pink oleanders and white frangipani-flowers. We loved the white sandy beaches, the beach bar, the delicious breakfast overlooking the sea, with croissants, toasted bread, Eggs Benedict and fresh Crepes. Absolutely, a delicious start of the day.
The Beach Villa stole my heart immediately, with my own sun loungers and turquoise sea in the front of my villa, and an inside- and outside shower. Whenever they couldn't find me, I was having a shower outside, under the coconut trees, with my MIY-tailor made shampoo scented with the pure etheric oil of frangipani flowers. After discovering the beaches and poolside to unwind in the first four days, we started to explore the Marina, where there were 50-meter yachts. The shops, restaurants and boulevards are great for a stroll any time of day.
With an App you book your favorite restaurant, there's 11 to choose from. My favorites are Mss Olive Oil, Nihonbashi Blue and The Elephant & the Butterfly (named after the painter Frieda Kahlo), the Mexican delicacies made by Diego, the Mexican chef. His Classic Avocado and quesadillas are to fly back for. In the App you find all sorts on interesting information, you can book a table, find he menus of each restaurant, order shampoo or an extra towel. It may sound a bit technical, but the chats are all friendly and the service smart, kind and super nice. And so is the front-office staff, the staff in the restaurants. Within a few days you know them all by name and they know you by name, and that's when you know you picked the right resort.
Hard Rock Hotel Maldives
Hard Rock Hotel Maldives has a special vibe. The hotel has a beautiful long, white sandy beach. The rooms are decorated in a fresh and modern way, light colors, lots of fine art. The bath room has a special design with opposite mirrors and sinks, very nice! I loved the water villas with the wooden decks and colors of blue of the porches, it makes me really feel landed in the Maldives.
Music is the theme, and spicy, freshness, young energy pops up everywhere you go. In the Hard Rock Café you can listen to an exquisite Live Band, there are two great DJ's and you can join the Friday Night Karaoke Night. I loved trying Kick Boxing with my teacher Miguel and doing Arial Arts with Lauren. A completely new experience that lifts you up and makes you remember you have muscles but forgot where they were. The staff is young, hip, extravert and laughs a lot. One of the bar tenders wore a pin naming 'DJ Hardwell' his favorite artist. As I come from Breda, the same city, he has a special place in my heart now. The great thing about the resorts is wherever you stay, you can use the beach, loungers, restaurants of both facilities. That give the resorts and extra, for sure.
One tip: visit the Rock Spa for a music-massage treatment. You're floating away on the vibrations of the music while, in my case Balinese lady Putu, massaged me from head to toe. This is a unique experience in the world, and I'm glad to have done it!
When you come here to drop THE question, ask the staff to design a special Guitar-set up with a romantic dinner on the beach. It will make your stay unforgettable! You will be surrounded by small, sparkling lights and it's the most romantic table for dinner I've ever seen.
It was a long time ago that we danced on the beach, with music from the live band. The singer from the Philippines has a beautiful voice. We laughed a lot when DJ Fixme and Ben G, the event manager, convinced me to join and sing Karaoke. My 'Always remember us this way' from Lady Gaga was beautiful, they said. The next day, people blinked their eye. O so great to have such fun together!
The Maldives Boring?
You have stretches of beautiful beaches, the sea, pools, restaurants and bars to enjoy. There's a Spa, a Kids Club, snorkel reef, water sports center to book a nice trip, free kayaks and all sorts of water sports gear. You can have a nice cappuccino, eat ice cream, or just walk and discover the islands, every corner, every beach is different. And in the Marina you find a small Maldives history Museam, a Coral Rehablitation Centre and a Beach Club (formerly known as Café del Mar). I would recommend to you stay a minimum of 10-12 days.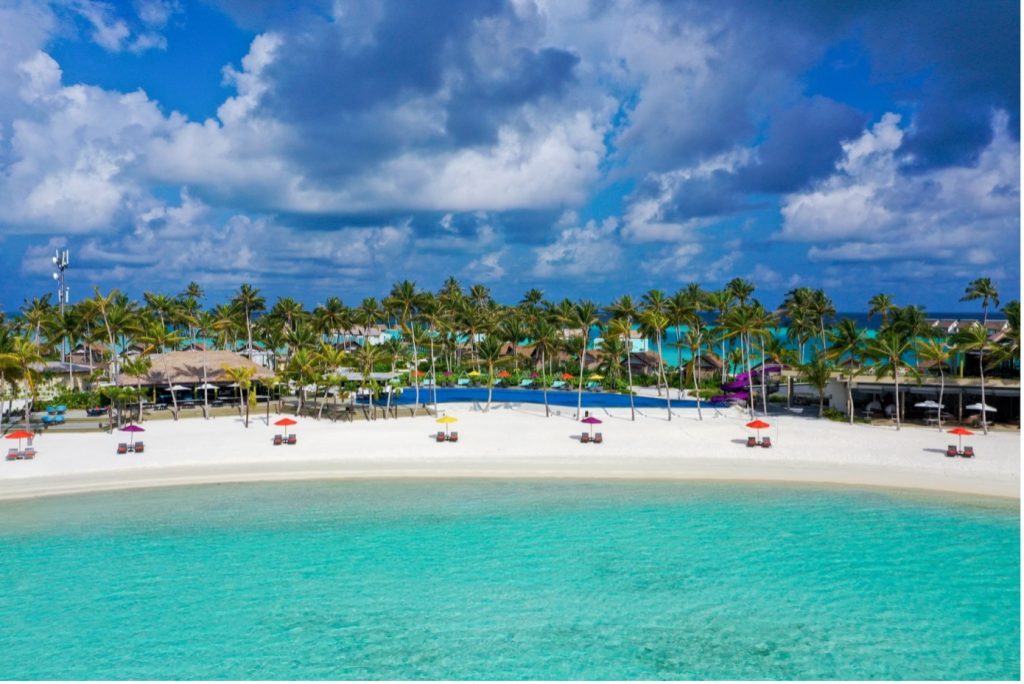 Go now, this is your perfect moment!
The visit to the Maldives was unforgettable. Going now, we have a totally new experience you can never have. And yes, preparation was quite a lot of work, but for all our guests we have a Maldives-Travel-Checklist, so its only a matter of check marks, pack your suit case and go. Though we did get most risks covered by our insurance and the Emirates Covid-19 cover insurance that you get for free when you book a ticket with Emirates. On all other details I'll be glad to inform you in the booking process.
And yes, there will always be risks when it comes to traveling If you're lucky to go to the Maldives now, you will always be happy you did it.
'There will always be risks when it comes to traveling. If you're lucky to go to the Maldives now, you will always be happy you did.'
My MOST magical moment
In SAii Lagoon resort, you will experience many magical moments.
Staying in SAii Lagoon Resort, I loved putting on my snorkel and discovering the local coral reefs. Swimming along the outside of the reef, there were so many colourful fishes I came across. I was there, in the turquoise waters. Only the sound of my breathing. Just enjoying this beautiful place. In the afternoon, I loved doing some nature walk or go for a new sport experience at Hard Rock Hotel Maldives, where I discovered Mixed Martial Arts class. I liked the balance of technique and power, and the pure adrenaline when master Miguel says: Yes, good ones at another high kick. After another culinary delight-dinner in the restaurants Ms Olive Oil or Elephant & Butterfly, there's nothing better than walking along the bridge and spotting wildlife. From rays, crabs, herrons to small baby sharks. Had to go there every night.
To have our guests enjoy the most beautiful destinations in the world, that remains my calling.
A BIG THANK YOU TO THE TEAMS OF THE RESORTS:
Thank you: Patrick (GM) and Thomas (Sales), so hospitable how you asked every day how we were doing, how dinner was, what's happening and inviting us for every delicious dinner, BBQ & dance, Night Market, Karaoke and an unforgettable Full Moon party. It wouldn't have been this sparkling, juicy holiday without you. You've given us the ultimate, delicious trip of a lifetime. Dear Jay, your warm welcome, big smile and always taking care of us, spoiling us with… MIY shampoo, a buggy, a table, you're brilliant. Thank you Lebbe, Mohamed Hasyb, Vicky, Ares, Mr Baai, Natcha, Tom, Yosmin, Ram, Siva. Special thanks to Mohamed Azim, housekeeper and who made our room the most surprising, romantic, funny room we ever stayed in. A crocodile in our bathroom! Really! And everyone I forgot to mention.
Thank you: Tolga, leader of this amazing Band and how you ask if we needed a ride so sweet, Thomas, Carlton, Diego, DJ Fixme, BenG, Bienvenido & band, Afkham Salie, Hannah Putu and Aprilia you Rock loves, Merisa, Cansu, Miguel, Lauren. You made us fly high in the sky, give some high kicks, rocked our tastebuds, let us swing those hips and climb the stage, sing that song and have tears in our eyes hearing Purple Rain. You all touched our hearts in a unique way.
Special thanks to the kids club team, Sujita and Fazeela, Alina. When your daughter (2) runs from the breakfast restaurant to the Kids Club to take off her shoes and gets so excited to get in, she forgets her mom, you know you're in the right place. Shukriya.
You've made our stay so special. We miss you and hope to return to SAii Lagoon and HRH Maldives. And hope to spend even more time with you all.
And we are sure you're going to give all our guests this same wonderful experience!
How to get to the Maldives? Emirates Airlines!
We have check out the routes and flights and had a chat with different airlines. We decided to fly with Emirates Airlines, who gave us flexible conditions. You can cancel or change the flight short before departure and the ticket has an end date of 24 months. Also, they give you the Travel with Confidence-insurance. A travel insurance that guarantees the coverage of most costs involving getting corona on the journey, like medical expenses or quarantine.
Our flight was great. We were given anti-bacterial gel on board, mouth masks and the aircraft was clean and staff wore protective clothing. Passengers all sat apart from each other, which gave us a good feeling. The ICE entertainment system shows the latest movies and series, we had delicious meals in sustainable boxes. Our daughter got spoilt with toys she played with during the whole holiday. We were in Dubai before we knew it.
On Dubai Airport, everything is clean and there's a pilar with anti-bacterial gel every ten meters. Everyone keeps distant and wears a mouth cover. You see the relief, people are so happy they can travel, they are fine with complying to the new rules of safety. And there were travelers from all over the world, which was also nice to see, the world opening up again.
Documents and procedures
Returning to Holland, there were all kinds of misunderstandings regarding the Declaration of Health for the Dutch Government. Here's were a small country with a finger always pointing to other countries, can't even get their own ducks in a row. The problem is, when you arrive at Male Airport, you can find the form online on the website of the Dutch Foreign Affairs department. But you can not fill it out. You have to download it and print it. Staff of the airline on the airport kept laughing ang laughing, they asked if we came from the Middle Ages, they don't have printers on an airport they said. Arriving at Schiphol Airport, there was nobody there to collect our 'Quarantine Declaration Form', so checking us? Calling us to check if we would really be at home? How then?? It's a real fake show if you ask me.
So, having all these wonderful experiences, we warmly recommend for your next holiday: the Maldives.
Go and have that Once in a Lifetime experience.
Feel free and send me a request or your questions on:
Debby Schipper-Snelders
Travelboutique
debby@travelboutique.nl
+31-628764536
The Netherlands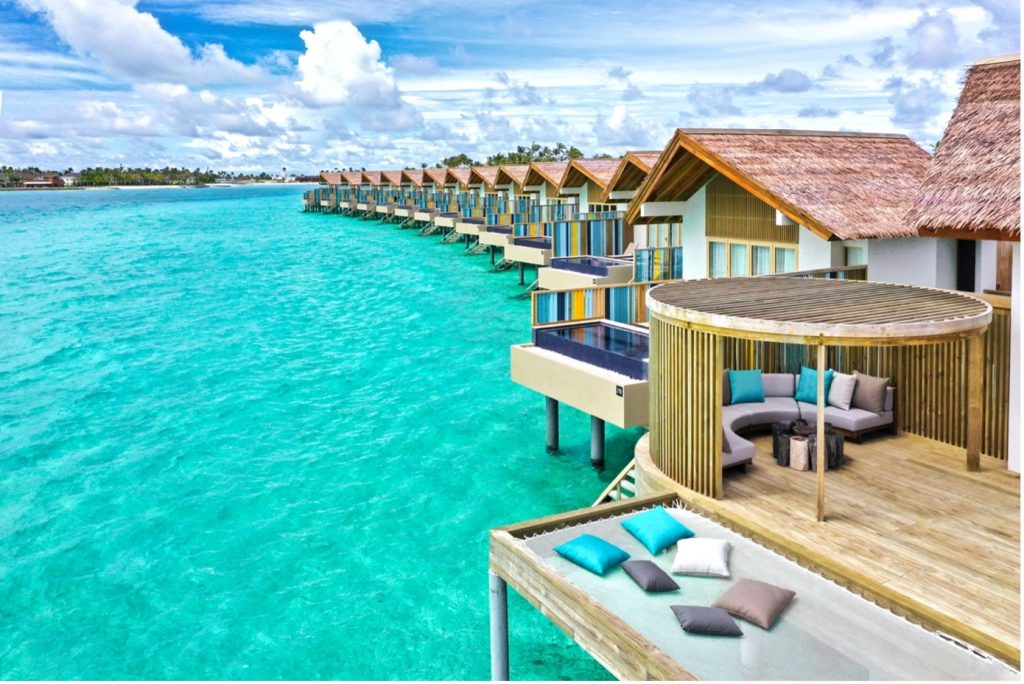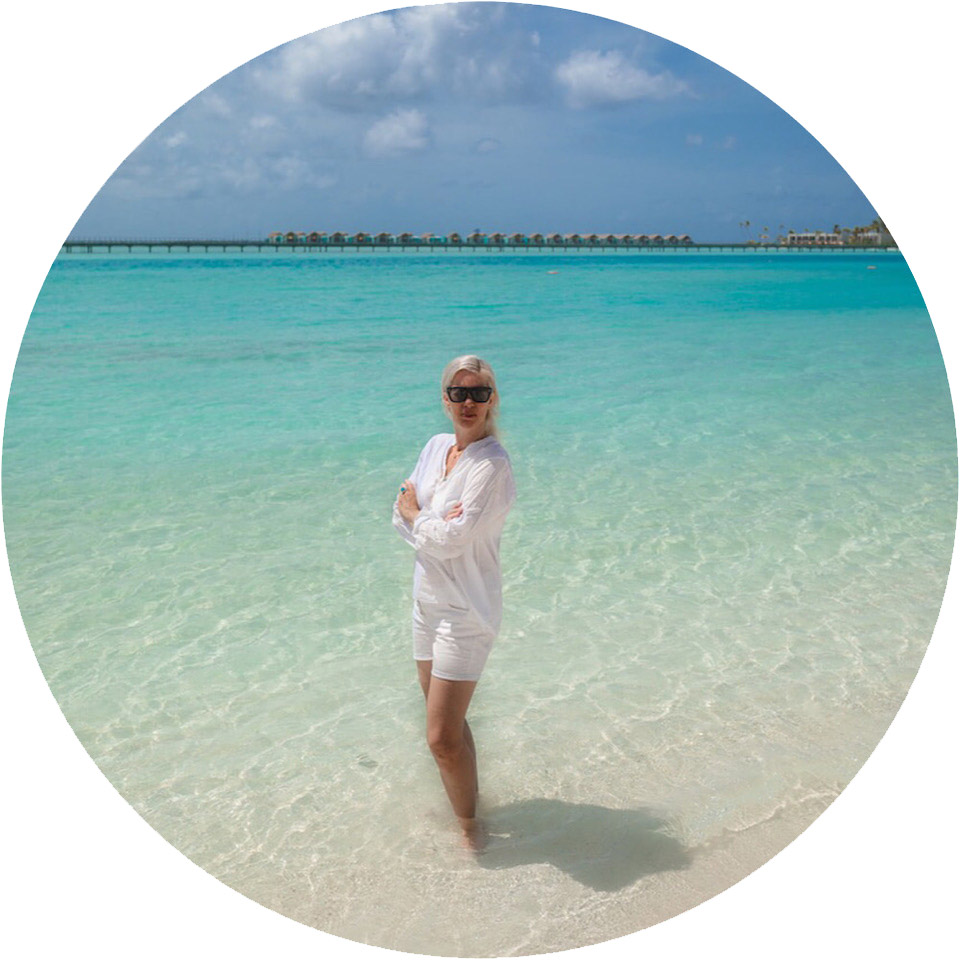 MALDIVES EXPERT
Did you enjoy reading my story? And are you ready for more?
We've visited many resorts and islands, atoll and coral reefs since 2004 and can tell you all about these beautiful places.
You're most welcome to email us, pick up the phone or make an appointment to come have a cup of coffee together. We've traveled from middle-range resorts (think USD 100-EUR 80 a person a night garden view room on half board basis) until the top of the world resorts, from USD 800/EUR 650 per room per night on bed and breakfast basis for a beach villa.
A ticket from Amsterdam to Male will cost around EUR 650 in low season, high season from 1.200 for the return flight in eluding taxes.
In Business Class you fly from EUR 2.500 for a return ticket, until EUR 6.500 in high season (Christmas). Book your tickets well in advance and you will have nice availability in any class with value for money ticket prices.
Please remember, every traveler has his/her own image of the ultimate Maldives holiday. We're champions in matching you in that perfect setting, as we know the resorts by heart. And every island and resort has its own vibe.
So, email us and we'll start planning your unforgettable-Once-in-a-Lifetime dream trip to the Maldives! Love to read you at: debby@travelboutique.nl
Debby Schipper-Snelders
Travelboutique
debby@travelboutique.nl
+31-628764536
The Netherlands